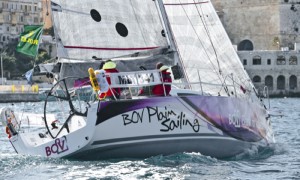 BOV Plain Sailing – Tango 34 wins Double Handed Class
Racing offshore double handed is not for the faint-hearted. It requires all-round seamanship, determination, stamina and above all, courage.
Royal Malta Yact Club member, Anthony Camilleri, is no stranger to the Rolex Middle Sea Race this is his tenth event but his crew, Gilbert Azzopardi has never raced two-handed before and neither has the boat. The Tango 34 is the smallest and lightest boat of the 76 yachts that started the Rolex Middle Sea Race.
Skipper and owner of BOV Plain Sailing, Anthony Camilleri, spoke dockside after completing the race in just over five days, to claim the win for the Double Handed Class, on corrected time.
" I am delighted that we have won but first and foremost, I must give a mention to Bepe Bisotto, skipper of Atame. We had a great battle, often side-by-side, but when we developed a problem with the reefing lines of our mainsail, he offered to stop and help. That offer of assistance shows the spirit of our discipline, we look after each other.
Probably the lowest moment in the race was the last night. We were tired and the weather was really bad, up to forty knots of wind on the beam, with six metre waves crashing into the cockpit. We took down the mainsail and continued under storm jib alone, it was the hardest part of the race. The Rolex Middle Sea Race is one of contrasts and the previous day the sailing was spectacular. Downwind with the spinnaker up, we were surfing at a constant 12 knots, at times accelerating to 18 knots. It is an amazing feeling with just the two of us, a very special moment."
Line Honours for the Double Handed Class was Diego Tisci's Custom 54, White Star, in an elapsed time of 4 days 6 hours 44 minutes and 18 seconds.