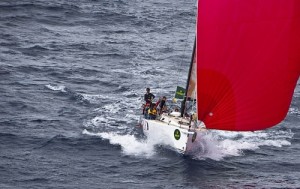 First Maltese boat home – J/133 Jaru 07.22.15 27/10/10
With eight members of the Ripard and Calascione families, Jaru is very much a family affair. Complimented by Maltese sailor, James Staniland, Australian Jordi Smith and John Santy from England.
Jaru, co-skippered by John Ripard and Andrew Calascione, came so close to claiming the overall win, but the Maltese Yacht Club, J/133 needed to finish by 06:23 this morning and were just under an hour out. Jaru's crew can be congratulated on taking line honours for a Maltese boat and the provisional Class Three win for the Rolex Middle Sea Race.
Despite the early morning arrival, there was a warm welcome for the crew by friends and family members, who gathered at the Royal Malta Yacht Club. There was a huge cheer, as they crossed the line. Andrew Calascione had this to say dockside;
"Last night was the kind of sailing you just dream about, we were at full pace, downwind with the wind gusting up to 25 knots. Sailing directly towards the moon, really spectacular. This was my eight race but my first with the J/133. I am so pleased with the boat but also the crew who were just magnificent. This is a special day and one I will always remember."
Whilst Andrew Calascione is a veteran of the Rolex Middle Sea Race, it was the first offshore race for seventeen year old, Luke Scicluna who is believed to be the youngest competitor in the 2010 Rolex Middle Sea Race.
Jaru's crew: John Ripard, Andrew Calascione, Sebastian Ripard,Thomas Ripard, Daniel Calascione, Marc Calascione, Sam Pizzuto, Luke Scicluna, James Staniland, Jordy Smith, John Santy.